Celestial Echo Press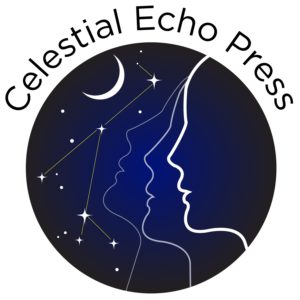 Celestial Echo Press is a small press publishing house based in Roslyn, Pennsylvania.
Out of so many, many great submissions, we have selected the top stories for inclusion in our first anthology, The Twofer Compendium.
Here, in no particular order, are your 30+ 2019 WINNERS!
Tony Conaway, Danielle Ackley-McPhail, George Young, Neal Wiser, Chitra Gopalakrishnan, Gary Zenker, Steve Carr, Hazel Humphreys, Diane D. Gillette, John D. Dromey, Kerry E. Black, Rodney Marsden, Antaeus Balevre, Matt McGee, Emily Martha Sorensen, Stephan P. Mount, Donna Burgess, Rose Strickman, Carolyn Geduld, Frank Kozusko, Gerri Leen, Dawn Vogel, M. Louis Lambert, Bruce Meyer, Kayla Dailey, Sandra Fitzpatrick, David C. Strickler, Sharon Frame Gay, Nicole Fratrich, Gregory L. Norris, Joette M. Rozanski, Payla Chandler, H.E. Casson, Pater Astle,
These authors worked diligently writing intriguing mysteries, thrillers, psychological essays, and high fantasy using the theme of twins—all within the short-story format!
Our plan is to have books ready for you to buy as gifts for the end-of-year holidays!