Celestial Echo Press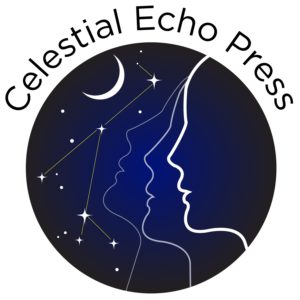 Celestial Echo Press is a small press publishing house based in Roslyn, Pennsylvania.
Dynamic. That's what Gemini Wordsmiths strives for, to stay dynamic. In fact, we're the dynamic duo, because we keep moving forward. So forward, that we've expanded into publishing. Welcome to our first book!
Interviews with the FABULOUS authors in The Twofer Compendium!
Today's featured author is our group member, Sharon Frame Gay. Her story, "Conjoined," made me misty. It's a tale of conjoined twins who have very different feelings about their togetherness.
What was your motivation in writing your story?  
I wrote "Conjoined" a couple of years ago but hadn't quite finished it. The story simmered on the back burner until I saw the call-out for The Twofer Compendium. I thought it might be a good match for the book.
Does it have special meaning?  
The story has no special meaning to me as far as experiences with twins. I am not a twin, nor have I known many twins. "Conjoined" just came to me one day with the first sentence dancing in my head, and the character wanted to be heard. I knew immediately that my main character had been a conjoined twin. I sat down and typed out her story.
What draws you to write short stories vs. novels?   
I'm not sure I have the patience to write a novel, although I do think about writing one from time to time. As a pantser, I enjoy sitting down and writing my stories all at once. It gives me a sense of gratification to know that I told a story in just a few pages. Because I never plot anything out, and don't even know how my stories will end until they do, the idea of a full-fledged book seems daunting.
When did you write your first story, unpublished and then published? 
Gosh, I think I wrote my first story when I was about seven. It was about a horse, but I don't remember anything more about it except I used my grandmother's old typewriter and pecked away at it. I wrote my first song when I was four. It was about my dog. I still remember the song word for word, corny as it was! I wrote essays and poems and song lyrics throughout my life, but it wasn't until 2015 when I submitted my first piece ever, a non-fiction essay, to BioStories Magazine and they not only accepted it, but nominated it for the Pushcart Prize. I had to look up what a Pushcart Prize was! Beginner's luck! This gave me confidence to keep writing and submitting my stories.
Where have you previously been published?  
I've been published over 130 times internationally, in magazines and anthologies, including Chicken Soup for the Soul, Typehouse, Thrice Fiction, Lowestoft Chronicle, Saddlebag Dispatches, Fiction on the Web, Literally Stories, Literary Orphans. BioStories, Rope and Wire, and many others.
---
Today's featured author is Dr. Bruce Meyer. His story, "Magdalen and Matilda," is a heart-breaking story of conjoined twins' love and loss.
1) What was your motivation in writing the story, "Magdalen and Matilda?"
I have always had an interest in British folk history. As a subject, it is strange and rich. In the course of thinking about twins (about three months before I discovered the call for The Twofer Compendium), I was reading online articles about conjoined twins, and in one of them about two 19th century Thai conjoined brothers, the author mentioned, quite as an aside, that one died a day or so before the other. This struck me as a trigger for horror of the most profound kind: the realization that someone else who is part of you has died and is about to take you with them. There were legendary sisters, the Biddenden Maids, who lived in England in the 16th century. Their father decided to use his conjoined daughters for charitable purposes. The sisters, long dead, are still raising money for local charities in their town: Twin cookies made by the local bakery, as well as jams and various homemade (according to 16th century recipes) comports are sold to tourists. The sisters were more than a sideshow. They decided early on that their strange fate could help others, and the town sign on the road into Biddenden features the Biddenden Maids in their 'twofer' white dress.
2) Does it have special meaning?
Yes. During my late teenage summers, my parents took me on repeated trips to England. I think we covered over 10,000 km by car as we did circuits of various areas of the UK. I later lived in London and did a lot of traveling around the country while I was researching my doctorate. What stayed with me were the details of the houses and towns where people such as Magdalen and Matilda might have lived. In my mind, the house I describe with the broken chimney is the cottage where John Milton wrote Paradise Lost, not far from Heathrow and the London commuter city of Slough. Having been in many period houses, and having a particular interest in Napoleonic period England (I am currently researching a novel that involves the Battle of Waterloo and a family connection to the events that took place in June 1815), I felt comfortable writing about the period and setting my conjoined twins in a town that was in the throes of dying during the late Industrial Revolution. Those kinds of details make me feel as if I were in the town and the house with the twins that I invented for my story.
3) What do you do in your real life?
I guess my 'real' life is a life in language. I am a professor of Communications and Liberal Arts at Georgian College in Barrie. There, I teach students (about 95% are ESL students, mostly from the Punjab area of India) how to write essays and develop cogent, correct, and fluid writing for their essays. One night a week, I am a Fellow of Victoria College at the University of Toronto. I did my undergraduate work at Victoria College, where I studied with the great Northrop Frye and the poet Jay Macpherson. They both had a tremendous impact on me. My mother also went to Victoria College. When she walked me through the place when I was three, I told her I would someday teach there. At the time, that startled her. Then I earned my M.A., Ph.D., and a certificate of Post-Doctoral Studies from the Social Sciences and Humanities Research Council of Canada. I spent many years as a 'cobbler scholar' teaching part-time at a host of institutions. One year I taught six days a week in four different cities; another year I taught at five institutions at once spread over two countries; and subsequently, I taught twenty-eight different courses in a single calendar year before I was hired fulltime at Georgian. Literature is my life. When I am not teaching, I am writing. When I am not writing, I am editing for a number of literary houses here in Canada where I have earned the nickname 'The Cleaner' (after Harvey Keitel in Pulp Fiction) for my work in taking books that are considered dead manuscripts and turning them into bestsellers. I have also done a great deal of radio and television work. My broadcasts on The Great Books remain the CBC's bestselling spoken-word audio CDs. I have also been a regular on TV Ontario, our provincial version of PBS. I have had three national bestsellers, including a book about how literature works, and the Great Books. My passion for discovering ten lost years of Canadian literature, our trench writing from the First World War, has enabled me to produce a number of anthologies and restored novels. One anthology features an afterword by Margaret Atwood.
4) What draws you to write short stories and novels?
I haven't finished a novel yet. I have three in progress. I returned to short stories after a thirty-year absence. An older student who was editing a literary magazine with me at Victoria College told me my stories were no good, so I stopped writing them and concentrated on poetry and non-fiction. Following an automobile accident, I had to learn to read and write again (I sustained a serious head injury). It was tough because my job as a professor involves so much reading and writing. I turned to flash fiction and started making the stories longer. Some of the more critical fellow students at university and even many Canadian writers I met (I have compiled two books of interviews with Canadian writers and a volume of portrait photographs of ninety writers with short memoirs attached to each photo) made a big fuss over "the craft of fiction." It occurred to me that "the craft of fiction" couldn't be any harder than the craft of poetry (I was the Canadian throw-in in the New Formalist Poets Movement of the 1990s). The craft of fiction, as I told the novelist Anne Michaels (a very dear old friend) over lunch one day, was different from poetry in that fiction uses a different kind of logic. Fiction is about keeping track of sequence, details, and the narrative flow. What the craft of fiction comes down to is a simple matter: Just tell your story. I type one hundred words a minute. I lay down a 2000-word story in about a half hour and then I spend two weeks or more editing it, looking for loopholes, points I can develop, material I should extract, and ways to make the prose sing in the same way that poetry sings. I co-taught courses at the University of Windsor with the novelist and short story writer, Alistair MacLeod. He was a great encourager and a wonderful source of advice. His advice was to go over and over the prose until it flows like honey and the story the prose creates moves at a balanced pace. That said, at any one time, I have five manuscripts, some poetry, some fiction, on the go. I shift back and forth, sometimes hourly, between the genres. What is important is that before a writer begins to put words to paper, he or she should see the entire story in their heads. Guesswork, discovery, gradual progress might be fine, but knowing where I have to go with my narrative means I can focus on how I want to get there, and the getting there is the beauty of prose in fiction.
5) When did you write your first story?
When it comes to fiction, I think I spent the first half or more of my life meeting up with horrible, destructive resistance to my writing. In Grade One, we had to write stories for parents' night and glue them to coloured construction paper. I had lots of construction paper at home, so I pilfered a bundle of our lined paper one weekend. I had been saving up stories. I wrote about 20 stories and glued them to both sides of construction paper because I was running short of coloured sheets. On the Monday morning before parents' night, I presented the stack of stories to my teacher. She screamed at me, called me to the front of the class, and tore every other page off the construction paper because we were only supposed to glue the stories to one side. I remember screaming back at her and being sent to the Principal's office where I got the strap–ten whacks on each palm. I had some teachers at high school who wanted to encourage me but their advice didn't work. The best teacher I ever had for fiction was fiction itself and having to teach it. A person can learn a lot by having to teach something. After teaching umpteen fiction courses at a whole variety of institutions, I thought, "I can do this. Why don't I?" The commitment to write is that simple. Poetry, on the other hand, was encouraged by my mother, grandmother, and grandfather. They read me poetry constantly. If I showed a story to my mother she would tell me, "No one is going to believe that." Stories brought out the wilder side of my imagination for some reason. Having lived a lot of life (I'm 62 now), I have a lot of believable material. Even stories such as "Magdalen and Matilda" only work because of the element of verity in them. I realized that my duty as a fiction writer is to take the reader to the places I see in my mind, introduce them to the people who inhabit those places, and to make sure that some element of fiction touches this world, the real world. My friend, the science fiction writer Robert J. Sawyer, who I have known for years, says that at the root of science fiction there have to be two things: good science and sound reality.
6) Where have you been previously published?
My work has appeared in 64 books. I had five more books (three volumes of short stories and two collections of poetry) tentatively accepted on New Year's Day this year. I have a book of flash fiction forthcoming this year along with, possibly, a book I have finished of translations of a Chinese poet. There is a book of essays on my work that will appear later this year from Guernica Editions. My work has appeared in Canada, the UK, Ireland, Switzerland, Spain, Chile, Italy, Greece, South Korea, Bangladesh, India, Pakistan, China, and Australia. I love seeing my work in translations I can't read. There is the sense of looking at something encased in limestone when I encounter translations. The largest print run of a short story appeared in China in a magazine titled Flying. By Chinese standards, Flying is a very small magazine. The print run was 750,000. My problem recently is that I am outliving my publishers. A number of them here in Canada have shut down because the publishers retired. That's not a good problem to have.
7) Are there any other details you would like to include?
My books are available on Amazon. I believe I cover seven pages there. My most recent collection of fiction is A Feast of Brief Hopes (Guernica Editions, 2018). My most recent book of poetry is McLuhan's Canary (Guernica Editions, 2019). My next book, a collection of flash stories, Down in the Ground, will appear from Guernica Editions later this year.
---
KM Dailey is our featured author today. Her story, "You're Not Laughing Now," is a tale of twins playing board games, an activity that is near and dear to partner Ann's heart.
What was your motivation in writing your story? 
A few summers ago, I worked at the Lawrence Hall of Science in Berkeley, California as an assistant camp instructor. I encountered a six-year-old girl with the most adorable, innocent, round blue eyes I'd ever seen—and she was a tyrant and a bully, one of the worst I've seen.  I also met a six-year-old boy who was just as adorable but also an exceptionally sweet, good kid. Somehow, they were best friends. But the more I watched them, the more I saw how he would subtly manipulate and control her, usually for her own good, but certainly against her will. Those two kids inspired the twins in my story.
Does it have special meaning? 
For me, this was a character study more than anything. I'm not a twin, but I'm best friends with my sister, so the sibling relationship is very significant to me and one I love to write.
What do you do in your real life?
I'm a high school physics teacher full-time (the most fun job ever) and a community children's choir director part-time (the other most fun job ever). Most of my writing is science fiction, though I do currently keep an active blog.  I also enjoy running, swimming, playing piano, and playing cooperative board games with my husband and friends.
What draws you to write short stories vs. novels?
I like working on both short stories and novels. When I'm in the middle of a novel project, I take a break between drafts to write a few short stories. It's great to be able to finish something in a reasonable amount of time, as compared to spending months or years on a single piece!
When did you write your first story, unpublished and then published?
Not counting stories I wrote as a kid, either for school or for fun, I wrote my first short story around 2016, though it wasn't until May 2018 that it was published, a few days after another story, which was my first publication.
Where have you previously been published? 
My work has appeared in Deep Magic and Daily Science Fiction, among others.
Are there any other details you'd like us to include?
I blog and keep an updated list of publications at kmdailey.com!
————————————————————————————————————————
Today's featured author is Neal Wiser. His story, "T Wins," tells a tale of two very different twins.
1.
What was your motivation in writing your story?
I've always wanted to write short stories and
The Twofer Compendium
offered me a great opportunity to do so. I'm excited and honored to have my story "T Wins" selected for the anthology. From a story perspective, there's an old piece of advice for writers: "Write what you know." As an actual twin (fraternal), I obviously have s
ome insight into the dynamics of being a twin and wanted to explore some of those dynamics.
2. Does it have special meaning?
Unfortunately, because the requirements were to keep the story short, I didn't have the luxury of delving too deep. However, when I started writing it, I had a lot of ideas about how to explore various themes, which I will include in a much longer version of the story that I'm currently developing.
3. What do you do in your real life?
I actually started my career working at the studios in Hollywood. I wanted to be a writer, and I worked on a few shows that got me into the room as a Writer's Assistant. Though I wasn't on the writing staff, I did contribute a few lines to a few episodes, but not nearly enough for credit. As fate would have it, a few years later, just as I was about to have my "big breakthrough," I had to move to Philadelphia so my wife could take over her family's business. What was supposed to be a one- or two-year hiatus turned into a mortgage, a kid, etc. During this time, I decided to step back from writing and focus on my career (houses and kids aren't cheap!). I got deep into technology and marketing and for the past ten years I've had my own small consulting business, Neal Wiser Consulting. During that time, I met a lot of successful authors. About five years ago I started writing again. Since then, I've placed or been in the finals in about a dozen screenwriting competitions, started teaching screenwriting (currently, at Drexel University), got hired to write a horror film, and have been slowly making inroads back in Hollywood (keeping my fingers crossed; wish me luck!). And, I've started writing fiction, such as, "T Wins."
4. What draws you to write short stories vs. novels?
They're short (ha ha!). In all honesty, from a story perspective, screenplays are not too different from short stories or novellas. While the format and skillset required are very different, screenplays are kind of like detailed outlines. However, converting them into prose is not as simple as filling in the blanks. Since writing an actual novel is a tremendous undertaking, I'm trying to learn how to write in prose by focusing on short stories and novellas. Once I get more comfortable and experienced, I'll move into novels.
5. When did you write your first story, unpublished and then published?
I wrote my first short story in the sixth grade. My teacher called me to her desk and accused me of plagiarizing! While I finally convinced her it was an original story (and got an A++ for the assignment), I didn't really pursue it because I had no idea what I was doing. Fast forward to a few years ago when I finally started writing fiction again, I wrote three or four other stories, but "T Wins" is actually my first attempt at getting published.
6. Are there any other details you'd like us to include?
Buy
The Twofer Compendium
! Buy a lot of copies and give them to friends and family. And read "T Wins" and spread the word. Writers need all the help they can get these days.
BTW: You can follow me on Twitter, @NealWiser.
---
Today's featured author is George Young. His story, "The Entwisles," is a funny tale about twins who are models.
What was your motivation in writing your story? 
– I had a reasonable amount of success with other short stories and wanted to continue the effort. While I have no immediate plans to put together an anthology of my own, it is something I will pursue along with the novels and non-fiction.
Does it have special meaning?  
– "The Entwisles" is based on my experiences with a commercial director in New York City in the 80s. He had a fear of flying, and also hated working anywhere outside his studio complex in Manhattan. He also worked with a specific pair of twins on a variety of print and 35mm projects. During my freelance career as a film producer, I had to get this director to Los Angeles for a couple of very lucrative jobs. Getting him there was more difficult than the actual shooting.
What do you do in your real life? 
– My professional life started as a dancer in New York City in 1979, where I worked in Summer Stock, way-off-Broadway in musical theater, and performed in some of the earliest music videos with Diana Ross, The Pointer Sisters, and Louise Robey.
I switched to the other side of the camera in New York City in 1984, and worked on national and international TV commercials for Fortune 500 companies. Directors I've worked with include Bob Giraldi, Joe Pytka, and Steve Steigman. I moved to California in 1988, where I spent the next 30 years working on a variety of projects including feature films, The Nightmare Before Christmas, Junior, Serendipity, and The Internship. I also produced three video games for George Lucas based on The Star Wars canon, Rebel Assault, Jedi Knight, and Force Commander.
On the Fortune 500 side I produced several projects for Larry Page at Google, including the launch of Google+, and collaborated with Steve Jobs at Apple on many of the company's advertising campaigns and the introduction of Quicktime as the standard for computer-based digital video.
In 2018 I turned my attention to my novels: DracuLAND, a story of a New York City real estate mogul who purchases Dracula's Castle and finds no vampires, but finds plenty of other undead inconveniences; The Google Earth Murders, a serial-killer reboot; and Time Blinked, a baseball story with a chronological twist.
What draws you to write short stories vs. novels? 
– I write both. Some story ideas lend themselves to a quicker resolve, and I pursue those in short fiction form. My latest work in novel length, however, started as a short story, but to quote J.R.R. Tolkien, "The tale grew in the telling." It will be a novel.
When did you write your first story, unpublished and then published? 
– 1979, a Faustian bargain that, of course, ends badly. Published in a literary magazine that no longer exists. It was a contest for writers under 25. I finished 3rd.The top three finishers received publication.
Where have you previously been published? 
– Only in the above-mentioned literary mag. I've been pursuing writing fulltime since I retired from producing in 2018.
Are there any other details you'd like us to include?
– Yes, I'd like everyone to know what fine editors there are at a company called Gemini Wordsmiths. Please plug them for me.
Thank you for the opportunity to be interviewed.
---
Continuing with our series of interviews with authors whose intriguing stories appear in The Twofer Compendium: Chitra Golapakrishnan. Her story, "Girls of the Sun," is beautifully written, taking the reader to the location where two pre-teens live and play.
What was your motivation in writing your story?
As a theme for the anthology had already been arrived at in this case, the classic 'egg or hen' scenario had already been resolved for all the writers involved. While the twins I know in real life function as separate individuals with distinct personalities, I decided to look sideways and let my gaze wander to two individuals, to two young, vibrant girls who share telepathic bonds, physical sensations, and a deep psychic connect beyond the bounds of their bodies. These confident, self-assured, intelligent girls pulled me along their spirited narrative, to their experiences that were not mundane coincidences but occurrences that were far more mysterious and downright fascinating for which there are no credible scientific explanations. I had no control over them as they took me on their zig-zag journey. At the end, like the readers, I could come up with only unintelligible answers as the questions their story posed were unanswerable.
Does it have special meaning? 
This story with a mindscape of its own, one that calls for a bit of cerebral leniency and lots of imagination, is in its intent all about the singular experience of love. One that never fails, never fades. As they say, love conquers all. Omnia vincit amor!
    3. What do you do in your real life?
With a masters in English literature and a degree in journalism, I am a New Delhi-based social development communication consultant and work with several national and international non-profits to put out their messages. At heart, I am a writer and have taken to fiction as a serious pre-occupation now. I also manage an urban farm and indulge in organic farming and aquaponics.
What draws you to write short stories vs. novels?
Short stories have the lure to pull you in faster into the very world that a novel accommodates. They can as willfully suck you into a whirlpool of ideas and emotions. And to the contrary, it is a delightful template to explore one theme, one mood, say less, and suggest more. It is certainly tough as a form but joyful as here, less is more.
When did you write your first story, unpublished and then published?
I have been telling stories of non-profits for over 25 years. My first piece of fiction was published in 2017.
Where have you previously been published? 
My short stories have been published by Black Hare Press, Me First Magazine, Terror House Magazine, Unpublished Platform, eShe, Literary Yard, Truancy Magazine, Spillwords, Runcible Spoon, Reedsy Prompts, Feedly, and Friday Flash Fiction among others.
---
Diane Gillette is our next featured author. Her story, "Lost and Found," is an emotional story of two generations, and a secret which, when revealed, changes lives.
What was your motivation in writing your story? 
I wanted to explore the idea that our lives and personalities can be shaped by a traumatic experience or loss that happens when we are too young to remember it. I felt the connection between twins would be a good way to explore this idea.
Does it have special meaning? 
It's just a story that I wanted to tell. I don't have any real-life connection to these characters or their story, but I've always loved a good twin story, and I tend to write a lot about complex family relationships because that's something I can relate to from my own life.
What do you do in your real life?
My day job is teaching writing at the college and adult education level. I'm also a certified elementary school teacher. Getting to teach what I'm passionate about is very fulfilling.
What draws you to write short stories vs. novels?
I love the challenge of fitting a story into a word limit, having to decide what is important enough to include and what needs to be cut out. I like that a reader can consume it in one sitting and feel the satisfaction of getting to know the characters and their struggles in just a few pages. As a writer, I also enjoy the instant gratification of being able to sit down with an idea and draft an entire story in one writing session. There's a lot of satisfaction in that.
When did you write your first story, unpublished and then published?
I think I started trying to create my own stories as soon as I learned to write, but my first official attempt came when I was around 7 years old.  I still have this yellow, spiral-bound notebook that my mom bought to keep me entertained one afternoon when she had to go to the dentist. It has maybe five stories written in it, complete with illustrations. You could tell I was a voracious reader because I'd sort of instinctively grasped narrative arc, and also because I was blatantly ripping off more than one story I admired, but I suppose that's how many writers and artists start out! My first published story I wrote when I was in my MFA program around 2004. It got published a couple of years later in a now-defunct literary magazine that no one had ever heard of.
Where have you previously been published? 
I've been published in over 50 literary venues. A few of my favorites include The Maine Review, Saturday Evening Post, Blackbird, Hobart, Mojave River Review, and Ghost Parachute.
Are there any other details you'd like us to include?
If you want to read more of my work or see a complete list of publications, you can visit www.digillette.com. Thanks!
---
Today's featured author is Lee. F. Patrick. Her story, "ReBorn," tells a tale of two sets of twins learning more than they may have wanted to know about ancient Mayan beliefs.
What was your motivation in writing your story?
I've been a long-time member in my alter ego of IFWA (Imaginative Fiction Writers Association) in Calgary, AB for many, many years. At one time, we did themed readings at various bookstores. Coming up on Y2K (2000) there was a lot of interest in fiction. For those born more recently, there was a lot of 'end of the world' hysteria. I chose to write a more hopeful version of another upcoming 'catastrophe.' The premise was the end of the world once the Maya calendar comes to the end of the current cycle. But the stars would not go out; instead there was a rebirth that didn't look that much different from the old world. I'd done some research on the Maya and their beliefs. The Hero Twins, who defeat the evil and rescue their father and uncle, seemed a good subject. Of course, those involved in the rebirth also had to be twins, I thought. So the two sets of twins are chosen to stand at the altar. Their sons represent the next incarnations of Hero Twins.
2. Does it have special meaning?
I enjoyed the research and trying to tell a complex story as a short piece. I tend to think I have a short story idea and they grow on me.
What do you do in your real life?
My day job when I wrote this story was that of biochemistry lab tech and lab manager in a research laboratory at the University of Calgary. Now I am a financial planner, give counsel on personal investments and insurance, and prepare tax returns for a number of creative people and small businesses in Canada.
What draws you to write short stories vs. novels?
I often think a story idea will fit into the short format but some of them don't. They grow to a novella or a multi-book series. ReBorn was one that stayed fairly short, though there is a version with lots more description. I tend to write plot first, adding dialogue as I go, sometimes with [condensed 'this happens'] bits which are expanded later. Setting is usually very limited in the early drafts and can be cut out to conform to a market's requirements. I sometimes struggle to isolate the problem and point of view character as I'm plotting for a short piece. Sometimes I'm in the wrong world, or the story really needs two viewpoints, which is not encouraged in short fiction. Still, I have managed to produce a number of short stories and poems, and to have published some of them. Others sit on editors' desks, waiting for acceptance.
When did you write your first story, unpublished and then published?
The first piece I wrote was a novel in 1990-ish. It turned into a trilogy which is sitting on my hard drive. I may have to rewrite it yet again. I've already done a complete rewrite, but that was some years ago. I'm sure that I will cringe at the writing, as I did before the first rewrite. The first publication was of "The Hunter," a Celtic-style poem in AnThribihis Mhor, in 1998. A few others followed, but I stopped submitting, but kept writing, for many years, until 2015.
Where have you previously been published?
Since I became serious about finding homes for my works in 2015, I've been published in Polar Borealis Magazine (two short stories, two poems), Enigma Front: Burnt, and The Stories We Hide: Enigma Front 5, Starklight Press (Wild, Wicked and Sparkling), In Places Between (three times), Manawaker Audio, and Celestial Echo Press' The Twofer Compendium ("ReBorn.") I was a finalist for the Prix Aurora Award (the Canadian fiction award) in Poetry for "Shadows in the Mist" in 2018. My novels (Alter Egos, The Alanyo Heir, and Lonely Together) are published with Javari Press, along with some novellas (The Carina Project, Man's Best Friend and Ethan and Monster) as it is hard to find markets for them. The last two are tie-ins to my novels; the first is sort of a prequel to another series.
Are there any other details you'd like us to include?
Never give up your dream of writing. Write consistently and don't edit your first line until you've finished the first draft.
---
Today's featured author is Matt McGee. His story, "Dating in the 5's," tells the story of two single people who meet in a fast-food restaurant.
What was your motivation in writing your story? 
"Dating in the 5's" started as a conversation between four of us one night, two men and two women. We all agreed we're after the same thing: flirting and having a good time in whatever form that takes with whoever strikes our fancy that day. We also agreed there's a strain of human we all strive to avoid: the overly groomed. As the story says, "The one thing good-looking people have in common is options."
Everyone looks for something different in a lover. Sometimes the people who give us the most, who are the most interesting and ultimately end up becoming long-term relationships, are the ones we're first to overlook. "Still waters run deep," as the old saying goes. But to add metaphor to metaphor, sometimes you need those deeper waters when your boat's loaded down with a lot of baggage.
"Dating in the 5's" started as notes in my Blackberry (yep, still have one – best writing instrument ever). I took those notes and went from one fast food joint to another in town by night, writing each character's experiences.
What do you do in your real life?
I drive drunk people around seven nights a week and play goalie in local leagues
When did you write your first story, unpublished and then published?
My first short story "A Spin of the Wheels" came in 1989 as a college assignment. It was published shortly after in a small press magazine in Chicago. The advent of the internet has made the process so much more fun and made me twenty times more productive.
---
Today's featured author is Dawn Vogel. Her short story in The Twofer Compendium, "A Pale Imitation," tells the tale of one superhero, or is it two?
What was your motivation in writing your story? 
I'd come up with the character of Celadon for a story I wrote set in the 90s. I liked the idea of her being a legacy superhero—one passed down within a family—and I also liked the idea of a set of identical twins sharing the same superhero mantle. So this story was born out of a desire to play with all of those things and figuring out a way to mash them together.
Does it have special meaning? 
One of the things I've been told I do well as an author is writing family relationships, especially among siblings. I don't have a twin, but I do have a close relationship with my own siblings, and my brother (three years younger) and I occasionally told people we were twins when we were younger and about the same size. I think I wanted a twin as a kid, so perhaps this is my way of exploring that with my writing.
What do you do in your real life? 
By day, I wear a lot of hats. I'm an office manager and copy editor for archaeologists and historians, but I also help with business development for the company, and occasionally I get to do some history work (my academic background is in history).
What draws you to write short stories vs. novels?
A lot of it is the time commitment of a novel vs. a short story. I can write and polish a short story in a few weeks if I've got time constraints. A novel takes me a few months to write, and then many more months to polish. So I can write a dozen short stories in a year, but probably only one or two novels. Short stories also have more immediacy for audiences, because they're quick reads!
When did you write your first story, unpublished and then published?
I wrote a story when I was about 4 or 5 years old that my mom typed for me and I illustrated. It didn't have much of a plot, and I suspect the last line was prompted by my mom asking me a question, as I probably dictated the story to her.
My first published story was "The Recondite Riddle of the Rose Rogue" (surprisingly, not the longest of my story titles) in 2010 for the Crossed Genres steampunk issue.
Where have you previously been published? 
I've had about fifty of my short stories published, so that would be a long list. "A Pale Imitation" is connected to my story, "Happily Never After," which appeared at The Colored Lens in 2018. People who like stories about siblings who don't always get along but who still love each other might also like my stories in the Young Explorer's Adventure Guide series (I have stories in all but the first two volumes).
Are there any other details you'd like us to include?
Because Celadon and the Celadon Cylcone are legacy heroes, an earlier incarnation of this hero appears in a novella I'm working on, set in a Hollywood analogue in the 1950s, which will hopefully be out this year!
---
Today we meet author Rose Strickman, whose story, "Heir to Snow," is a beautifully written version of The Snow Queen tale.
What was your motivation in writing your story? 
I have always been fascinated by fairy tales, both in their classical forms and rewritten for other purposes. But I've never been convinced by "happily ever after." There's no such thing, not if you're still living. Questions I often ask myself, when working with fairy tales are, What happened then? What happens after happily ever after? I also frequently interrogate the villains: what are their motivations? Are they really that evil, or is there more to the story? This is particularly true of Hans Christian Andersen's "The Snow Queen," which ends with "summer, glorious summer," but with both Kay and Gerda stuck in perpetual childhood. How could that be? How could such an incredible quest not change both of them? What if those changes led to their eventual estrangement? And what if the Snow Queen experienced her own transformation, brushing so close to mortality? I also felt there was a strong connection between Gerda and the Snow Queen: they are two halves of a single whole. The story grew from there.
Does it have special meaning? 
One special meaning I take from "Heir to Snow" is both the inevitability of change and its cyclical nature. Gerda's transformation into the Snow Queen is elementally powerful, a transformation she is helpless to resist; as, in fact, all change is. It destroys her life as a human woman, destroys her initially happy marriage to Kay, but also gives her new life and a new role. This role as the Snow Queen is both eternal—there is always a Snow Queen—and cyclical—the Snow Queen, like the seasons themselves, is always changing as new heirs step up and previous Queens become human women again. In every end there is a new beginning.
What do you do in your real life?
In my day job, I work in a legal office. I also spend a lot of time with my two adorable nephews! But I'd say writing is one of the most real parts of my life.
What draws you to write short stories vs. novels?
I'm not ruling out publishing my own novel one day—in fact, that's one of my ambitions. But there's no denying that I get bogged down when trying to write novels. A short story is a concise thing and is often the perfect length for many of my ideas. It's a medium that suits my creativity. I also enjoy writing to prompts, and that works better with short stories than novels.
When did you write your first story, unpublished and then published?
I wrote my very first story back in third grade. It was a vampire story that was both a family saga and the tale of a mad king. I submitted it to a school contest in exchange for a picture book, and got some very funny looks from teachers for a few weeks after that. My first published story was "The House in the Desert," published in the e-zine The Lorelei Signal, back in 2014. I've been submitting ever since.
Where have you previously been published? 
"Heir to Snow" is my twenty-eighth publication. I've been published in e-zines such as The Lorelei Signal, Luna Station Quarterly, Tell-Tale Press, Feed Your Monster and Enchanted Conversation. I've also been published in a number of anthologies, including Sword and Sorceress 32, Earth: Giants, Golems and Gargoyles and, most recently, Monsters in Spaaaaace! I've also self-published novellas on Amazon.
---
Continuing in our series of interviews with authors whose fabulous stories appear in The Twofer Compendium: Gregory L. Norris.
His story, "The Echoes," tells a tale of light and dark, with a little romance mixed in.
What was your motivation in writing your story? 
For the entire month of December 2018, I worked on a project called The Fortune Cookie Tales. Every morning that month, I cracked open a fortune cookie leftover from Chinese takeout and penned an entire story based upon the fortune. For Sunday, December 23, the fortune was "Keep your feet on the ground even though friends flatter you." On all but three of the days of that month of free-writing, I wrote from nothing, no preparation. That day, I matched the fortune with a superhero-themed dream I'd had and had written the details down on a note card in my inventory of story ideas. This seemed a good match for that particular fortune and I dashed off the longhand draft of "The Echoes" by day's end.
Does it have special meaning? 
When I was a teenager, I bonded with the female Captain Marvel from the early 1980s whose powers involved mastery over the entire EM spectrum. I loved her and still do. Often since then, I have dreams in which I'm made of light and flying. This story owed to one such dream in which I was a superhero tasked with saving the world. The true identity of the supervillain came about in that dream, which was such a cool and unexpected surprise!
What do you do in your real life?
I am a full-time professional writer, romancing and being romanced by my emerald-eyed muse daily. Writing is the heartbeat inside my heart. It's all I ever wanted to do from the time I was a teen, all I've cared about doing. I publish regularly and have had some recent successes in screenwriting, which I was poised to do in my 30s and likely would have, had I shifted my location from the East to the West Coast. I spent a good deal of time caring for my disabled spouse, which made my writing time at a premium. Somehow, things got done but I've felt this way since I was fifteen: there's never enough time to write.
What draws you to write short stories vs. novels?
I write both. But I love the short story format for its brevity, its impact, and, I'll admit it, its instant gratification. I tend to write "smaller" tales featuring fewer characters. When I have many characters, I go epic – a/k/a novels. I recently finished one such project and have a request for it by a major publisher. So that's on my to-do list for early 2020 as well as the numerous projects that howl at me in the night to complete.
When did you write your first story, unpublished and then published?
I dabbled with writing from the time I was ten. Then, at fifteen, on a summer sleepover at a friend's house, I raced to put THE END on what was my first "novel" (at the time I didn't realize it was really a novella). I reached the last line and something incredible happened. My entire body dissolved into electric pins and needles. It was the first time I ever experienced pure inspiration and a light was switched on inside me – I loved to write and I was going to be a writer. With the ink still drying on that finished project, I put pen to a fresh sheet of paper and began another story, then and there. Almost thirty years ago to this day, I wrote a short story called "The Victorian Woman," a gothic ghost story. I typed it up and sent it off to the late, great magazine Night Mountains. A week later, my story came back covered in pencil. The editor said that if I made her suggested changes, she would be thrilled to publish it. I did, and that was some 4,000 published credits ago. For over a decade I worked for numerous glossy magazines and would often turn in hundreds of feature articles, columns, and short news stories per year.
Where have you previously been published? 
My stories have appeared in numerous magazines and fiction anthologies for almost thirty years. Some of the recent standouts include Monsters of Any Kind, DreamForge Magazine, and Whittier Than Thou, in which my short story shared a Table of Contents with a reprint by none other than Mark Twain. In the first week of 2020, my short stories have sold to ParABNormal Magazine and the anthology 20,000 Leagues Remembered, which honors the 150th anniversary of Jules Verne's wonderful classic novel.
Are there any other details you'd like us to include?
Only that in 2019, I accomplished something I'd only ever done once before in my career. Between 70 finished fiction projects (two novels, two feature film screenplays, 12 novellas, the rest short stories), I put down over half a million total words for the year. I have a generous muse – and one who is often a taskmaster!
---
Fifth in our series of interviews with the authors whose fabulous stories appear in The Twofer Compendium: Kerry E.B. Black. Her story, "Blanket of Black," is the tale of the bond between twins who are opposites.
What was your motivation in writing your story?
Jaimie and James are twins in my novel Season of Secrets. In developing Jaimie's character, I explored her grief when James passed. This story was part of that exploration.
Does it have special meaning?
Siblings often struggle for their individuality, especially when one is dependent upon the other. James relied on Jaimie, and although she felt a measure of guilt, she enjoyed the independence of separation when she enrolled at school. However, when James died, the exhilaration of freedom transformed into guilt.
What do you do in your real life?
My life's too dull for a bio.
What draws you to write short stories vs. novels?
Short stories are cosmologies expressed in few words. It takes practice to compress thoughts into tiny tales, and I enjoy the challenge. Besides, I love reading short stories; there's something satisfying in reading a complete story in one session. I hope other fans of the genre find something to enjoy in my efforts.
When did you write your first story, unpublished and then published?
From an early age, I wrote short stories, most of which I never published. (Back in those days of pocket copyrights, stories were printed out on cotton bond paper and sent with a SASE to prospective publishers.) After a lengthy hiatus to raise kids, I returned to writing and found a supportive online community and some great local friends, too. Their presence makes writing less lonely.
Where have you previously been published?
I have, indeed, been lucky enough to have several pieces placed in some amazing publications. And every time one of my stories finds a literary placement, I feel a thrill.
Are there any other details you'd like us to include?
If you want to be a writer, never give up on your dream. If you submit something for publication and the editors decline, don't despair. That means you've not yet found the story's home. All writers feel the sting of rejection. All of them. And remember, editors are usually writers themselves. They have a vision for their projects that perhaps your work didn't quite fit, but assess the story and try again. Also, I can't stress enough, find a community that bolsters your enthusiasm. I can't wait to read your words!
---
Fourth in our series of interviews with authors whose stories appear in The Twofer Compendium: Carolyn Geduld. Her story, "Multiple Loves," introduces us to Steph, a woman looking for love online. She meets a man whose name is Roy. Or is it Ray?
Thank you, Carolyn, for your story!
What was your motivation in writing your story?
I began writing fiction in September 2018. "Multiple Loves" was written while I was deciding between two genres. One genre was Humor with a grim twist ("Multiple Loves" belongs to this group). The other was Psychological Horror with a humorous twist. Although I enjoy writing both genres, psychological horror has been my mainstay.
Does it have special meaning?
I believe all of my fiction is autobiographical in the sense that everything creative is ultimately autobiographical. That said, while I am not a twin, I grew up with twin cousins. They may have some meaningful place in my imagination that inspired "Multiple Loves."
What do you do in your real life?
Writing has become my real life. Other than that, I have been a psychotherapist for the past forty years in Bloomington, Indiana—a university town that is central to my fiction.
What draws you to write short stories vs. novels?
Actually, I write connected short stories that may become novels when joined. "Multiple Loves," for example, is one of five stories with the same main character, Steph, a foolish young woman "looking for love in all the wrong places."
When did you write your first story, unpublished and then published?
First short story: September 2018. First publication: "The Pink Envelope" in Not Your Mother's Breastmilk: 4/26/19
Where have you previously been published?
I have been very fortunate to have had 17 short stories accepted for publication in literary journals and anthologies in 2019 and one so far in 2020.
Thirty of my connected short stories about a mass killing's effects on a small town are being published under the title Take Me Out the Back by Black Rose Publishers in August 2020.
Are there any other details you'd like us to include?
All of my stories come to me after sleeping. I don't dream them. I just wake up knowing what to write. If I get stuck, I take a nap. That removes the block.
---
Third in our series of interviews with the authors whose fabulous stories are in The Twofer Compendium: Steve Carr. His story, "A Bayou Tale," tells the story of twins who are different as Night and Day.
1.What was your motivation in writing your story?
I liked the prompt of writing a story about twins. I had only written one story before this one with twins as the main characters so I wanted to see if I could do something different in the way of telling a story about twins that also had the feel of being very region-specific.
Does it have special meaning?
I have traveled through the Louisiana bayous a couple of times and it evokes for me a place of mystery and magic. It felt like the perfect setting for my story.
What do you do in your real life?
I'm retired. I write.
What draws you to write short stories vs. novels?
The short story form is art when done well. Since 2016 I have been trying to perfect the art of writing short stories while also reading short stories written by my peers, paying close attention to how others interpret the art for themselves. I have written one novel, but the entire process drove me crazy. It requires a different artistic approach, one that I am not yet attuned to.
When did you write your first story, unpublished and then published?                                                       I was a junior in high school and wrote a very lengthy short story, which may have been my first, about something medieval, complete with knights and damsels in distress. It wasn't published but I think I received an A for it. I didn't really turn to writing and publishing short stories until 2016, but while in college (back in the 1980s) I wrote and submitted three short stories to different publications and they were all published. I still have them somewhere in my files. I wasn't interested in writing short stories at that time. My interest was in writing plays.
Where have you previously been published?
Literally Stories, Sick Lit Magazine, Door is a Jar, Flame Tree Publishing,Viewfinder Magazine, Fantasia Divinity Publications, Fictive Dream, 50 Word Stories, Centum Press, Short Tale 100, The Spotty Mirror, CultureCult Magazine, Temptation Magazine, Visitant Literary Journal, The Wagon Magazine, Infernal Ink, Tiger Shark, Double Feature, Ricky's Back Yard, Bento Box, NoiseMedium, Chronicle, Zimbell House Publishing, The Drunken Llama, 67 Anthology, Inane Pure Slush Vol. 14, MASHED: Culinary Tales of Erotic Horror Anthology, Communicators League, Jakob's Horror Box, Panorama Journal, Midnight Circus, Dark Gothic Resurrected Magazine, The Haunted Traveler, Fixional, The Gathering Storm Magazine, Rhetoric Askew, Wilde Stories 2017 (Lethe Press), Trigger Warnings, Night to Dawn, Not Your Mother's Breast Milk, Aphotic Realm, Bull & Cross, The Dirty Pool, Thrice Fiction, Story and Grit, Thousand And One Stories, Occulum, Aether and Ichor, 4StarStories, Tuck Magazine, Ariel Chart, Truth Serum Wiser Anthology, Lunaris Review, Trembling With Fear, Boned: A Collection of Skeletal Writing,The Horror Zine, Hot Tub Astronaut, Kristell Ink Holding on by our Fingertips Anthology, Ordinary Madness, The Serving House Journal, Near to the Knuckle, Ripcord, Varnish Journal, Yalobusha Review, Clarendon House Publications, Cadaverous Magazine, Blue Fifth Review, Black Heart Magazine, Linden Avenue Literary Journal, Storyland Literary Review Magazine, Tessellate Magazine, The Airgonaut, Jokes Review, Lycan Valley Press, Two Sisters Publishing, Your One Phone Call, Furtive Dalliance Literary Review, New Reader Magazine, The Galway Review, Deadsteam Anthology, Barking Sycamores, Bewildering Stories, Soft Cartel, Quail Bell Magazine, Dodging The Rain, Fear of Monkeys, Locust Magazine, Dead Mule School of Southern Literature, Cabinet of Heed, Aurora Wolf, Night Garden Journal, As Told by Things, Storyland, Dastaan World Magazine, Saddlebag Dispatches, Screen Door Review, Spillwords, Strangely Funny, Feed Your Monster, Runcible Spoon, Round Up Zine, Literary Hatchet, Enchanted Conversation, The World of Myth Magazine, Taxicab Magazine, Down in the Dirt Magazine, Who Writes Short Shorts, Propertius Press, Nude Bruce Review, Literary Hatchet, Ink Pantry, Clever Magazine, Jete Away Anthology (Hurricane Press), QSF Impact Anthology, Terror House Magazine, Chelsea Station, Mirror Dance, Free Library of the Internet Void, Writers' Cafe Magazine, Millwork, Qutub Minar Literary Review Magazine, Fantasia Fairy Tales, Theme of Absence, Kingdoms in the Wild, Founder's Favourites, Other People's Flowers (podcast), CommuterLit, The Blue Pages, Empyreome, Fear & Trembling Magazine, Altered Reality Online Magazine, Horrified Press (Lonesome Train anthology), The Piker Press, Prismatica Magazine, Retreats From Oblivion, Zany Zygote Review, Writer's Block, Close to the Bone, CafeLit, Natural Light: 2018 Scars Publications collection book, Brave Voices Magazine, Spill Yr Guts Horror Zine, Colp: Issue 4: A Little Bit of Nonsense, Me First Magazine, Frontier Tales, Pixie Forest Publishing (Modern Fantasy Anthology), Nthanda Review, Fathom Magazine, Chronotrope Magazine, Zooscape, Potato Soup Journal, Mental Papercuts, Slippage Lit, Emerging Worlds, Bending Genres, The Selkie, The Mark Literary Review, Setu, The Elixir Magazine, Turnpike Magazine, Aromatica Poetica, Selcouth Station, Every Writer's Resource, All Worlds Wayfarer Literary Magazine, The Andreasperat, Rhetoric Askew volume 07, Blackbird Publishing (Golden Door anthology), The Rye Whiskey Review, Mosh Lit, Inner Circle Writers' Magazine, Teleport Magazine, Our Wonderful Anthology, Still Point Arts Quarterly, District Lit, Foreign Literary Journal, Stinkwaves, Zombie Works Publications Monsterthology 2, Sweet Tree Review, Zombie Pirate Publishing, Pennsylvania Literary Journal, The Creativity Webzine, Words for the Wild, Celestial Echo Press Twin Anthology, Collective Realms, Active Muse, Volume 10 The Best of Frontier Tales, Shlock! Webzine, Portland Metrozine, Drunk Monkeys, Novelty Magazine, Dying Planet Anthology (Flame Tree Press), Great Void Books, Black Poppy Review, Christmas Lites Anthology, Dream Noir, The Stray Branch, Literary Yard, Sweet Tree Review, Breadcrumbs Magazine. Impspired, Breaking Rules Publishing, cli-fi anthology Terraforming Earth for Aliens. 
Are there any other details you'd like us to include?
Thank you for accepting and publishing my story. I'm honored to be included along with such great writers.
---
Second in our series of interviews with the fabulous authors in The Twofer Compendium:
Donna Cuttress
, whose story Roommates tells a tale of very different twins.
👏
👏
👏
1. What was your motivation in writing your story?
I wanted to write a weird piece about unconventional siblings. It's a relationship that can take a lot of bending before it snaps, I wanted to explore that.
2. Does it have special meaning?
Yes. My grandfather had a twin sister, but sadly she died, killed in the May Blitz, during WWII. He always felt as though she was with him, and would often be caught talking to her, even when he was old. The bond was still there.
3. What do you do in your real life?
I'm from Liverpool in the U.K. and have been writing for the last ten years.
4. What draws you to write short stories vs. novels?
I like the idea of packing everything I want to say in a few pages, then moving on to another subject, character, etc. I'm writing a novel at the moment and finding the discipline to finish, but maintaining confidence in it is challenging. I am enjoying it though!
5. When did you write your first story, unpublished and then published?
I would write at school, and afterwards as a hobby. Other than a few reviews for a local theatre magazine, I never sent any pieces off to be considered for publication. Then, when I went to University, I took creative writing as part of my degree, and had my confidence trashed! It was awful and put me off writing for years. Eventually, I began writing again and the first story I submitted, was accepted.
6. Where have you previously been published?
I've been published with a lot of independents, including Crooked Cat Publishing, Sirens Call, Flame Tree Publishing, Black Hare Press, and Scary Snippets for S.H. Publishing. I've also had stories published for Latchkey Tales and had work for The Patchwork Raven turned into an artbook.
7. Are there any other details you'd like us to include?
It's been great working with Gemini Wordsmiths. I can't wait to see the print version of
The Twofer Compendium
.
_______________________________________________________________________
Today we'll start posting interviews with the fabulous authors in
The Twofer Compendium
. We asked the same questions of each author.
We begin with Nicole Fratrich, whose story, "The Branded Shadow," is a tale of good twin/bad twin. One twin is the sheriff, the other an outlaw. Or is he?
Thank you, Nicole, for submitting to The Twofer Compendium, and for answering our questions.
1.
What was your motivation in writing your story?
My dad loves watching old Westerns. Having watched a good bit of them myself, I've often considered writing one. I had originally started thinking about a story that revolved around Rosemary's character. Once I read about the submission call for
The
Twofer Compendium
, I realized that the twin element is a twist that makes a classic Western unexpected and original.
2.
Does it have special meaning?
The search for identity is the key to "The Branded Shadow." We all experience the frustration of competing with someone who is similar to us. Blake struggles because another person has his face. I think that all readers can relate to this story, myself included.
3.
What do you do in your real life?
Ironically, I'm an only child from Seward, PA! I am currently an English major and secondary education minor at St. Vincent College in Latrobe, PA. When I'm not studying, I'm either writing or jamming to '80s music!
4.
What draws you to write short stories vs. novels?
I feel less pressure when I'm writing a short story, because my plot doesn't have to span hundreds of pages or be super in-depth. However, I often fear that my "short" stories are becoming way too long!
5.
When did you write your first story, unpublished and then published?
I've been writing short stories since I was little, and back then I used to illustrate as well! I have a vague memory of writing a book about lemonade in kindergarten. "The Key," which was my first full short story to be published, was written in the spring of 2018.
6.
Where have you previously been published?
I have had several excerpts of short stories published in the Johnstown
Tribune-Democrat
newspaper as a part of their "Your Story" contest (2016, 2017, and 2019). My short story "The Key" was selected as the winner of the 2018 Emerging Mystery Writer scholarship contest for undergraduates; the story was published in the November 2018 issue of
Mystery Weekly Magazine
.
7.
Are there any other details you'd like us to include?
I'm currently in the process of finding publishers/agents for my New Adult novel. I've also recently launched a blog called Confessions of a Classic Soul (
www.coacs.home.blog
). It's for the old soul, by an old soul.