Celestial Echo Press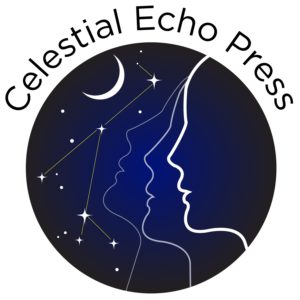 Celestial Echo Press is a small press publishing house based in Roslyn, Pennsylvania.
Dynamic. That's what Gemini Wordsmiths strives for, to stay dynamic. In fact, we're the dynamic duo, because we keep moving forward. So forward, that we've expanded into publishing. Welcome to our first ebook!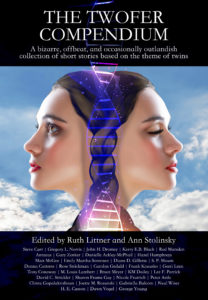 Praise for The Twofer Compendium:
 "The Twofer Compendium is a robust twin anthology, a creative montage of voice and style with no two stories the same. It'll keep you page turning all night."
Daniel Arthur Smith, USA Today Best-selling author
canyonsofthedamned.com; danielarthursmith.com; thecatharitreasure.com  pottersdaughter.com
"The Twofer Compendium is a fascinating and eclectic assemblage of stories that traverses time, space and genre to explore the mysteries of twindom in unexpected and sometimes even shocking ways."
Jon McGoran, author of Spliced & Splintered from Holiday House Books plus Drift, Deadout and Dust Up, from Tor/Forge Books, Cohost of The Liars Club Oddcast
"You'll be beside yourself in this eclectic collection of stories about twins that run the gamut of genres and styles. Buy two copies!"
Michael A. Ventrella, editor, and author of Big Stick and Bloodsuckers: A Vampire Runs for President
"Twins pose an identity conundrum as well as an opportunity to create havoc.  The tales in The Twofer Compendium leap across genres with twins of every variety, and for lovers of this theme, it's sure to entertain."
Carla Sarett, Author of Spooky and Kooky Tales.  Forthcoming: A Closet Feminist
"From heartwarming to heart-wrenching, from the emotional to the eerie, from the unearthly to the unpredictable, The Twofer Compendium has something for everyone… or everytwo!"
Phil Giunta, author of By Your Side and Like Mother, Like Daughters, and editor, Middle of Eternity anthology series
"Twins are said to share special bonds, understand each other's unspoken communication, speak their own languages, even possess powers of ESP. Their double-ness continues to fascinate the rest of us. Adored or abhorred, sheltered or shunned, twins have universally and perpetually aroused attention and curiosity. It was that fascination that inspired this collection of twin-themed stories. In them, you'll find all matter of twins: the good, the bad, the fantastic, the fearsome, the magical, the envious, the secretive, the devious, and more. Being a twin. Fun, right? Think about it. What could go wrong?"
–          Merry Jones, from the Foreword
The print version will be available before the end of December.
And continuing on in our dynamic roles, in 2020 we will be accepting submissions of novels and non-fiction narratives for publication. Additionally, we will be calling for submission for a new anthology in 2020, theme to be announced at a later date.
In the meantime, click HERE or HERE to order your ebook, a **PERFECT** gift for the holidays! And if you only celebrate Krampus or even nothing at all, it's the **PERFECT** gift to give yourself—just sit in the comfy chair with your curled-up lap cats, blanket and slippers, cup of tea or cider, and DO NOT DISTURB sign on your front door. We get it.
Interviews with the FABULOUS authors in The Twofer Compendium!
Fifth in our series of interviews with the authors whose fabulous stories appear in The Twofer Compendium: Kerry E.B. Black. Her story, "Blanket of Black," is the tale of the bond between twins who are opposites.
What was your motivation in writing your story?
Jaimie and James are twins in my novel Season of Secrets. In developing Jaimie's character, I explored her grief when James passed. This story was part of that exploration.
Does it have special meaning?
Siblings often struggle for their individuality, especially when one is dependent upon the other. James relied on Jaimie, and although she felt a measure of guilt, she enjoyed the independence of separation when she enrolled at school. However, when James died, the exhilaration of freedom transformed into guilt.
What do you do in your real life?
My life's too dull for a bio.
What draws you to write short stories vs. novels?
Short stories are cosmologies expressed in few words. It takes practice to compress thoughts into tiny tales, and I enjoy the challenge. Besides, I love reading short stories; there's something satisfying in reading a complete story in one session. I hope other fans of the genre find something to enjoy in my efforts.
When did you write your first story, unpublished and then published?
From an early age, I wrote short stories, most of which I never published. (Back in those days of pocket copyrights, stories were printed out on cotton bond paper and sent with a SASE to prospective publishers.) After a lengthy hiatus to raise kids, I returned to writing and found a supportive online community and some great local friends, too. Their presence makes writing less lonely.
Where have you previously been published?
I have, indeed, been lucky enough to have several pieces placed in some amazing publications. And every time one of my stories finds a literary placement, I feel a thrill.
Are there any other details you'd like us to include?
If you want to be a writer, never give up on your dream. If you submit something for publication and the editors decline, don't despair. That means you've not yet found the story's home. All writers feel the sting of rejection. All of them. And remember, editors are usually writers themselves. They have a vision for their projects that perhaps your work didn't quite fit, but assess the story and try again. Also, I can't stress enough, find a community that bolsters your enthusiasm. I can't wait to read your words!
---
Fourth in our series of interviews with authors whose stories appear in The Twofer Compendium: Carolyn Geduld. Her story, "Multiple Loves," introduces us to Steph, a woman looking for love online. She meets a man whose name is Roy. Or is it Ray?
Thank you, Carolyn, for your story!
What was your motivation in writing your story?
I began writing fiction in September 2018. "Multiple Loves" was written while I was deciding between two genres. One genre was Humor with a grim twist ("Multiple Loves" belongs to this group). The other was Psychological Horror with a humorous twist. Although I enjoy writing both genres, psychological horror has been my mainstay.
Does it have special meaning?
I believe all of my fiction is autobiographical in the sense that everything creative is ultimately autobiographical. That said, while I am not a twin, I grew up with twin cousins. They may have some meaningful place in my imagination that inspired "Multiple Loves."
What do you do in your real life?
Writing has become my real life. Other than that, I have been a psychotherapist for the past forty years in Bloomington, Indiana—a university town that is central to my fiction.
What draws you to write short stories vs. novels?
Actually, I write connected short stories that may become novels when joined. "Multiple Loves," for example, is one of five stories with the same main character, Steph, a foolish young woman "looking for love in all the wrong places."
When did you write your first story, unpublished and then published?
First short story: September 2018. First publication: "The Pink Envelope" in Not Your Mother's Breastmilk: 4/26/19
Where have you previously been published?
I have been very fortunate to have had 17 short stories accepted for publication in literary journals and anthologies in 2019 and one so far in 2020.
Thirty of my connected short stories about a mass killing's effects on a small town are being published under the title Take Me Out the Back by Black Rose Publishers in August 2020.
Are there any other details you'd like us to include?
All of my stories come to me after sleeping. I don't dream them. I just wake up knowing what to write. If I get stuck, I take a nap. That removes the block.
---
Third in our series of interviews with the authors whose fabulous stories are in The Twofer Compendium: Steve Carr. His story, "A Bayou Tale," tells the story of twins who are different as Night and Day.
1.What was your motivation in writing your story?
I liked the prompt of writing a story about twins. I had only written one story before this one with twins as the main characters so I wanted to see if I could do something different in the way of telling a story about twins that also had the feel of being very region-specific.
Does it have special meaning?
I have traveled through the Louisiana bayous a couple of times and it evokes for me a place of mystery and magic. It felt like the perfect setting for my story.
What do you do in your real life?
I'm retired. I write.
What draws you to write short stories vs. novels?
The short story form is art when done well. Since 2016 I have been trying to perfect the art of writing short stories while also reading short stories written by my peers, paying close attention to how others interpret the art for themselves. I have written one novel, but the entire process drove me crazy. It requires a different artistic approach, one that I am not yet attuned to.
When did you write your first story, unpublished and then published?                                                       I was a junior in high school and wrote a very lengthy short story, which may have been my first, about something medieval, complete with knights and damsels in distress. It wasn't published but I think I received an A for it. I didn't really turn to writing and publishing short stories until 2016, but while in college (back in the 1980s) I wrote and submitted three short stories to different publications and they were all published. I still have them somewhere in my files. I wasn't interested in writing short stories at that time. My interest was in writing plays.
Where have you previously been published?
Literally Stories, Sick Lit Magazine, Door is a Jar, Flame Tree Publishing,Viewfinder Magazine, Fantasia Divinity Publications, Fictive Dream, 50 Word Stories, Centum Press, Short Tale 100, The Spotty Mirror, CultureCult Magazine, Temptation Magazine, Visitant Literary Journal, The Wagon Magazine, Infernal Ink, Tiger Shark, Double Feature, Ricky's Back Yard, Bento Box, NoiseMedium, Chronicle, Zimbell House Publishing, The Drunken Llama, 67 Anthology, Inane Pure Slush Vol. 14, MASHED: Culinary Tales of Erotic Horror Anthology, Communicators League, Jakob's Horror Box, Panorama Journal, Midnight Circus, Dark Gothic Resurrected Magazine, The Haunted Traveler, Fixional, The Gathering Storm Magazine, Rhetoric Askew, Wilde Stories 2017 (Lethe Press), Trigger Warnings, Night to Dawn, Not Your Mother's Breast Milk, Aphotic Realm, Bull & Cross, The Dirty Pool, Thrice Fiction, Story and Grit, Thousand And One Stories, Occulum, Aether and Ichor, 4StarStories, Tuck Magazine, Ariel Chart, Truth Serum Wiser Anthology, Lunaris Review, Trembling With Fear, Boned: A Collection of Skeletal Writing,The Horror Zine, Hot Tub Astronaut, Kristell Ink Holding on by our Fingertips Anthology, Ordinary Madness, The Serving House Journal, Near to the Knuckle, Ripcord, Varnish Journal, Yalobusha Review, Clarendon House Publications, Cadaverous Magazine, Blue Fifth Review, Black Heart Magazine, Linden Avenue Literary Journal, Storyland Literary Review Magazine, Tessellate Magazine, The Airgonaut, Jokes Review, Lycan Valley Press, Two Sisters Publishing, Your One Phone Call, Furtive Dalliance Literary Review, New Reader Magazine, The Galway Review, Deadsteam Anthology, Barking Sycamores, Bewildering Stories, Soft Cartel, Quail Bell Magazine, Dodging The Rain, Fear of Monkeys, Locust Magazine, Dead Mule School of Southern Literature, Cabinet of Heed, Aurora Wolf, Night Garden Journal, As Told by Things, Storyland, Dastaan World Magazine, Saddlebag Dispatches, Screen Door Review, Spillwords, Strangely Funny, Feed Your Monster, Runcible Spoon, Round Up Zine, Literary Hatchet, Enchanted Conversation, The World of Myth Magazine, Taxicab Magazine, Down in the Dirt Magazine, Who Writes Short Shorts, Propertius Press, Nude Bruce Review, Literary Hatchet, Ink Pantry, Clever Magazine, Jete Away Anthology (Hurricane Press), QSF Impact Anthology, Terror House Magazine, Chelsea Station, Mirror Dance, Free Library of the Internet Void, Writers' Cafe Magazine, Millwork, Qutub Minar Literary Review Magazine, Fantasia Fairy Tales, Theme of Absence, Kingdoms in the Wild, Founder's Favourites, Other People's Flowers (podcast), CommuterLit, The Blue Pages, Empyreome, Fear & Trembling Magazine, Altered Reality Online Magazine, Horrified Press (Lonesome Train anthology), The Piker Press, Prismatica Magazine, Retreats From Oblivion, Zany Zygote Review, Writer's Block, Close to the Bone, CafeLit,  Natural Light: 2018 Scars Publications collection book, Brave Voices Magazine, Spill Yr Guts Horror Zine, Colp: Issue 4: A Little Bit of Nonsense, Me First Magazine, Frontier Tales, Pixie Forest Publishing (Modern Fantasy Anthology), Nthanda Review, Fathom Magazine, Chronotrope Magazine, Zooscape, Potato Soup Journal, Mental Papercuts, Slippage Lit, Emerging Worlds, Bending Genres, The Selkie, The Mark Literary Review, Setu, The Elixir Magazine, Turnpike Magazine, Aromatica Poetica, Selcouth Station, Every Writer's Resource, All Worlds Wayfarer Literary Magazine, The Andreasperat, Rhetoric Askew volume 07, Blackbird Publishing (Golden Door anthology), The Rye Whiskey Review, Mosh Lit, Inner Circle Writers' Magazine, Teleport Magazine, Our Wonderful Anthology, Still Point Arts Quarterly, District Lit, Foreign Literary Journal, Stinkwaves, Zombie Works Publications Monsterthology 2, Sweet Tree Review, Zombie Pirate Publishing, Pennsylvania Literary Journal, The Creativity Webzine, Words for the Wild, Celestial Echo Press Twin Anthology, Collective Realms, Active Muse, Volume 10 The Best of Frontier Tales, Shlock! Webzine, Portland Metrozine, Drunk Monkeys, Novelty Magazine, Dying Planet Anthology (Flame Tree Press), Great Void Books, Black Poppy Review, Christmas Lites Anthology, Dream Noir, The Stray Branch, Literary Yard, Sweet Tree Review, Breadcrumbs Magazine. Impspired, Breaking Rules Publishing, cli-fi anthology Terraforming Earth for Aliens. 
Are there any other details you'd like us to include?
Thank you for accepting and publishing my story. I'm honored to be included along with such great writers.
---
Second in our series of interviews with the fabulous authors in The Twofer Compendium:
Donna Cuttress
, whose story Roommates tells a tale of very different twins.
👏
👏
👏
1. What was your motivation in writing your story?
I wanted to write a weird piece about unconventional siblings. It's a relationship that can take a lot of bending before it snaps, I wanted to explore that.
2. Does it have special meaning?
Yes. My grandfather had a twin sister, but sadly she died, killed in the May Blitz, during WWII. He always felt as though she was with him, and would often be caught talking to her, even when he was old. The bond was still there.
3. What do you do in your real life?
I'm from Liverpool in the U.K. and have been writing for the last ten years.
4. What draws you to write short stories vs. novels?
I like the idea of packing everything I want to say in a few pages, then moving on to another subject, character, etc. I'm writing a novel at the moment and finding the discipline to finish, but maintaining confidence in it is challenging. I am enjoying it though!
5. When did you write your first story, unpublished and then published?
I would write at school, and afterwards as a hobby. Other than a few reviews for a local theatre magazine, I never sent any pieces off to be considered for publication. Then, when I went to University, I took creative writing as part of my degree, and had my confidence trashed! It was awful and put me off writing for years. Eventually, I began writing again and the first story I submitted, was accepted.
6. Where have you previously been published?
I've been published with a lot of independents, including Crooked Cat Publishing, Sirens Call, Flame Tree Publishing, Black Hare Press, and Scary Snippets for S.H. Publishing. I've also had stories published for Latchkey Tales and had work for The Patchwork Raven turned into an artbook.
7. Are there any other details you'd like us to include?
It's been great working with Gemini Wordsmiths. I can't wait to see the print version of
The Twofer Compendium
.
_______________________________________________________________________
Today we'll start posting interviews with the fabulous authors in
The Twofer Compendium
. We asked the same questions of each author.
We begin with Nicole Fratrich, whose story, "The Branded Shadow," is a tale of good twin/bad twin. One twin is the sheriff, the other an outlaw. Or is he?
Thank you, Nicole, for submitting to The Twofer Compendium, and for answering our questions.
1.
What was your motivation in writing your story?
My dad loves watching old Westerns. Having watched a good bit of them myself, I've often considered writing one. I had originally started thinking about a story that revolved around Rosemary's character. Once I read about the submission call for
The
Twofer Compendium
, I realized that the twin element is a twist that makes a classic Western unexpected and original.
2.
Does it have special meaning?
The search for identity is the key to "The Branded Shadow." We all experience the frustration of competing with someone who is similar to us. Blake struggles because another person has his face. I think that all readers can relate to this story, myself included.
3.
What do you do in your real life?
Ironically, I'm an only child from Seward, PA! I am currently an English major and secondary education minor at St. Vincent College in Latrobe, PA. When I'm not studying, I'm either writing or jamming to '80s music!
4.
What draws you to write short stories vs. novels?
I feel less pressure when I'm writing a short story, because my plot doesn't have to span hundreds of pages or be super in-depth. However, I often fear that my "short" stories are becoming way too long!
5.
When did you write your first story, unpublished and then published?
I've been writing short stories since I was little, and back then I used to illustrate as well! I have a vague memory of writing a book about lemonade in kindergarten. "The Key," which was my first full short story to be published, was written in the spring of 2018.
6.
Where have you previously been published?
I have had several excerpts of short stories published in the Johnstown
Tribune-Democrat
newspaper as a part of their "Your Story" contest (2016, 2017, and 2019). My short story "The Key" was selected as the winner of the 2018 Emerging Mystery Writer scholarship contest for undergraduates; the story was published in the November 2018 issue of
Mystery Weekly Magazine
.
7.
Are there any other details you'd like us to include?
I'm currently in the process of finding publishers/agents for my New Adult novel. I've also recently launched a blog called Confessions of a Classic Soul (
www.coacs.home.blog
). It's for the old soul, by an old soul.