Praise for The Twofer Compendium: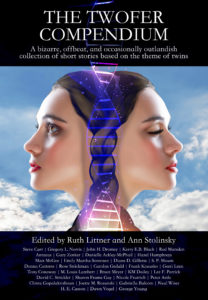 "The Twofer Compendium is a robust twin anthology, a creative montage of voice and style with no two stories the same. It'll keep you page turning all night."
Daniel Arthur Smith, USA Today Best-selling author
canyonsofthedamned.com; danielarthursmith.com; thecatharitreasure.com  pottersdaughter.com
"The Twofer Compendium is a fascinating and eclectic assemblage of stories that traverses time, space and genre to explore the mysteries of twindom in unexpected and sometimes even shocking ways."
Jon McGoran, author of Spliced & Splintered from Holiday House Books plus Drift, Deadout and Dust Up, from Tor/Forge Books, Cohost of The Liars Club Oddcast
"You'll be beside yourself in this eclectic collection of stories about twins that run the gamut of genres and styles. Buy two copies!"
Michael A. Ventrella, editor, and author of Big Stick and Bloodsuckers: A Vampire Runs for President
"Twins pose an identity conundrum as well as an opportunity to create havoc.  The tales in The Twofer Compendium leap across genres with twins of every variety, and for lovers of this theme, it's sure to entertain."
Carla Sarett, Author of Spooky and Kooky Tales.  Forthcoming: A Closet Feminist
"From heartwarming to heart-wrenching, from the emotional to the eerie, from the unearthly to the unpredictable, The Twofer Compendium has something for everyone… or everytwo!"
Phil Giunta, author of By Your Side and Like Mother, Like Daughters, and editor, Middle of Eternity anthology series
"Twins are said to share special bonds, understand each other's unspoken communication, speak their own languages, even possess powers of ESP. Their double-ness continues to fascinate the rest of us. Adored or abhorred, sheltered or shunned, twins have universally and perpetually aroused attention and curiosity. It was that fascination that inspired this collection of twin-themed stories. In them, you'll find all matter of twins: the good, the bad, the fantastic, the fearsome, the magical, the envious, the secretive, the devious, and more. Being a twin. Fun, right? Think about it. What could go wrong?"
–          Merry Jones, from the Foreword
The ebook was published in December 2019 and the paperback was published in February 2020.
And continuing on in our dynamic roles, in 2020 we will be accepting submissions of novels and non-fiction narratives for publication. Additionally, we will be calling for submission for a new anthology in 2020, theme to be announced at a later date.
In the meantime, click HERE or HERE to order your ebook. Click HERE for the paperback (currently only on Amazon, but we're working on that! Our listing is so new that Amazon hasn't posted the cover image yet.)